The "FFP" in the AquaPlay 13 FFP stands for "Family Fun Pool" because there's enough room for everybody! Utilize its 32 massaging water jets by cranking up the temperature to create a 10 seater hot tub. Or use the 13 foot, 1229 gallon water tank to simply cool off and relax on a hot day. If you want a physical challenge, the high-flow Slipstream swimming jets will keep you in place while you practice your favourite swimming strokes. For those looking for a year-round aquatic recreation facility that combines the best of swim spas, plunge pools, and hot tubs, the AquaPlay 13 FFP is designed for you, your family, and your friends.
SPECIFICATIONS:
WEIGHT FULL: 13,386 lbs / 6,073 Kg
WEIGHT EMPTY: 2,163 lbs / 981 Kg
DIMENSIONS: 150″ long x 93″ wide x 52.75″ tall
VOLUME: 5,092 L / 1,340 US Gallons
PUMPS: 1 x 4 hp, 1 x 4 hp
SEATING: 10
THERAPY JETS: 32
FEATURES:
Hydrowise Thermal Shield Insulation Technology
Pressurized Micro-Filtration
High Flow SlipStream Swim Jets
Soft Stride Mat
Cascading Waterfall Jets
LED Lighting
Aquacord Swim Tether
STARTING FROM: $35,395.00
Colour Selector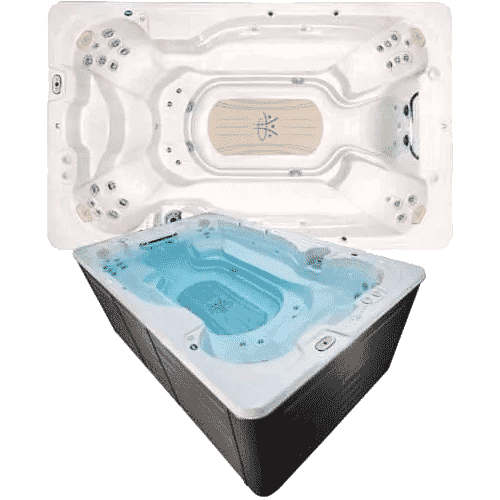 Select Shell Colour


Silver Marble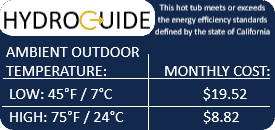 Select Cabinet Colour


Driftwood Grey
Select Cover Colour


Grey
Swim Spas Options and Features
FORM GogglesHydropool offers Form Goggles as an Upgrade on the 12FFP model. Now you can truly understand your swimming metrics in real-time in a heads up display.

Hydropool Pure Water System Hydropool's Pure Water System is the #1 recommended upgrade and is the smartest safest, easiest and most cost-effective way to keep your hot tub or swim spa safe and sparkling clean!

Rollaway Spa Cover Hydropool offers optional Rollaway Cover upgrades to enchance your expereience. Easily opened by one person, the Rollaway is the #2 reccomended Upgrade and is loved by all our customers.

HydroWise Thermal Shield System Hydropool hot tubs are engineered to be the most energy efficient swim spa in the world, providing 100°F / 37°C for pennies a day!

How They're Made Hydropool Hot Tubs and Swim Spas are manufactured in Mississauga Ontario Canada by experienced designers and engineers, ensuring that we continue to exceed our customer's expectations.

Installation Video Before you can enjopy your new Hydropool Swim Spa, you will need to get in installed. This prossess is easy when you know what to expect. It's all here in our delivery and install video.
FREE SWIM SPA BUYERS GUIDE
To learn how to select the perfect swim spa, download your free buyer's guide now by clicking below!
13FFP AquaPlay Swim Spa Gallery
Here's What Our Customers Have to Say