4-5 Person Hot Tub
Most Popular Serenity Hot Tub
Large entry step
Budget Friendly
The most popular Serenity hot tub worldwide, the Hydropool Serenity 4500 is a 5-person hot tub that fits most peoples space and budget. It is equipped with a never float lounger, ergonomic seating with different seat heights and a large entry step perfect for those with small children or mobility issues. It comes standard with LED moon lighting, 2 x AquaBlade waterfalls and 34 stainless steel hydrotherapy jets.
SPECIFICATIONS:
WEIGHT FULL: 3176 lbs / 1441 kg
WEIGHT EMPTY: 585 lbs / 265 kg
DIMENSIONS: 80″ long x 80″ wide x 36.5″ tall
VOLUME: 1176 L / 309 US Gallons
SEATING: 4-5
FEATURES:
LED Moon Lights
2 x AquaBlade Waterfalls
Hydrowise WeatherSeal Thermal Shield Insulation System
Polymer Insulated Floor
Unibody Frame
ClearSpring Filtration System
STARTING FROM: $11,395.00
Colour Selector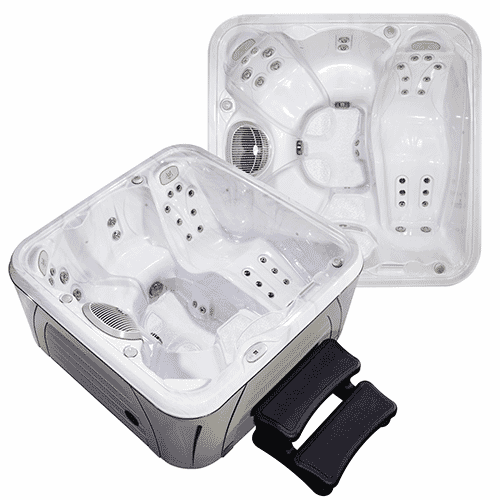 Select Shell Colour


Alpine Mist


Midnight Canyon


Silver Marble


Tuscan Sun


Pure White


Black Opal
Select Cabinet Colour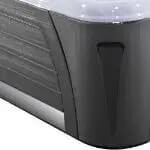 Designer Driftwood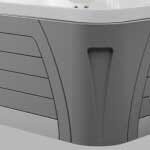 Harbor Grey
Select Cover Colour


Chestnut


Grey
Serenity Benefits and Features
HydroWise Thermal Shield System Hydropool hot tubs are engineered to be the most energy efficient swim spa in the world, providing 100°F / 37°C for pennies a day!

Hydropool Pure Water System Hydropool' Pure Water System is the smartest safest, easiest and most cost effective way to keep your hot tub or swimspa safe and sparking clear!

Stadard Features This Collection features premium lighting and exterior Moonlights, 2 Aqua Blade Waterfalls, premium design maintenance-free cabinetry and our weather seal insulation system. Every model also features non-slip padding throughout the spa for safe east entry and exit.

How They're Made Hydropool Hot Tubs and Swim Spas are manufactured in Mississauga Ontario Canada by experienced designers and engineers, ensuring that we continue to exceed our customer's expectations.
FREE HOT TUB BUYERS GUIDE
To learn how to select the perfect hot tub, download your free buyer's guide now by clicking below!
Serenity 4500 Hot Tub Gallery
Here's What Our Customers Have to Say