Hot Tub and Swim Spa in one unit
Two different temperature zones
Variable Speed Swim Technology
Are you having trouble deciding between a hot tub or a swim spa? Considering a pool but hate the idea of Ontario's short pool season? Get the best of both worlds with the Hydropool 19 DTAX AquaTrainer. This dual unit combines a 5-person hot tub with a 12′ swim spa that features two upgraded high-performance V-Twin swim jets and a slipstream buoyancy jet to deliver the best swim experience on the market. The AquaTrainer features the AquaPro control, where you can set swim times, training programs and change speed with ease. Swim or exercise in comfortable 85-degree water, then hop in 100+ degrees to sooth all your aches and pains and melt away stress. This model has all the hydrotherapy benefits of Hydropool's world famous Self-Cleaning hot tubs and the versatility of a year-round mini pool. If you want to maximize a small backyard or simply cannot decide between a hot tub or a pool the Hydropool 19 DTAX is the perfect swim spa for you!
Specifications
WEIGHT FULL: 21,317 lbs / 9,672 kg
WEIGHT EMPTY: 4,000 lbs / 1,815 kg
DIMENSIONS: 226″ long x 93″ wide x 52.75″ tall
SWIM SPA VOLUME: 6,670 L / 1,762 US Gallons
HOT TUB VOLUME: 1,192 L / 315 US Gallons
SWIM SPA PUMPS: 62 x 5 hp, 1 x 4 hp
HOT TUB PUMP: 1 x 4 hp
SEATING: 5-6
THERAPY JETS: 37
FEATURES:
Exclusive Self-Cleaning Technology
Hydrowise Thermal Shield Insulation Technology
Pressurized Micro-Filtration
HydroClean Floor Vacuum
AccuFlo Swim Jets
Ice Bucket
LED Lighting
2 x Hydrofall Pillows
Two Temperature Zones
35 Jet 5-Person hot tub
V-Twin Swim Jets
Aqua Pro Control
STARTING FROM: $59,295.00
Colour Selector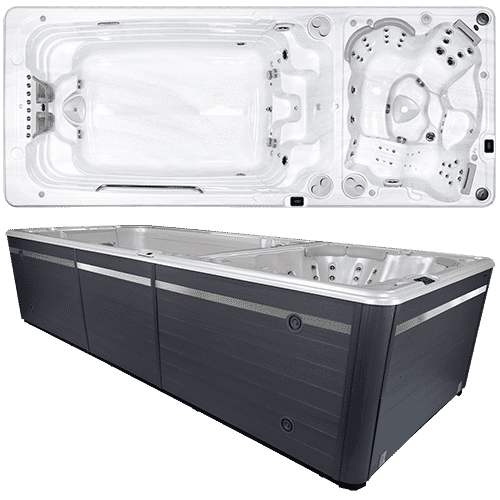 Select Shell Colour


Alpine Mist


Silver Marble


Pure White
Select Cabinet Colour


Driftwood Everlast


Midnight Everlast
Select Cover Colour


Chestnut


Grey
Swim Spas Options and Features
FORM GogglesHydropool offers 1 pair of Form Goggles with every Executive and Aquatic Collection Swim Spa. Now you can truly understand your swimming metrics in real-time in a heads up display.

V-Twin Jet Technology The patent behind our Jet Propulsion System makes the V-Twin Jets the most powerful, predictable and non-turbulent jets on the market today.



Hydropool Pure Water System Hydropool's Pure Water System is the #1 recommended upgrade and is the smartest safest, easiest and most cost-effective way to keep your hot tub or swim spa safe and sparkling clean!

Rollaway Spa Cover Hydropool offers optional Rollaway Cover upgrades to enchance your expereience. Easily opened by one person, the Rollaway is the #2 reccomended Upgrade and is loved by all our customers.

HydroWise Thermal Shield System Hydropool hot tubs are engineered to be the most energy efficient swim spa in the world, providing 100°F / 37°C for pennies a day!

Hydropool Self Cleaning Systen Hydropool hot tubs filter 100% of the water every 15 minutes and is the most energy efficient filtration system in the world!

How They're Made Hydropool Hot Tubs and Swim Spas are manufactured in Mississauga Ontario Canada by experienced designers and engineers, ensuring that we continue to exceed our customer's expectations.

Installation Video Before you can enjopy your new Hydropool Swim Spa, you will need to get in installed. This prossess is easy when you know what to expect. It's all here in our delivery and install video.
FREE SWIM SPA BUYERS GUIDE
To learn how to select the perfect swim spa, download your free buyer's guide now by clicking below!
19DTAX AquaTrainer Swim Spa Gallery
Here's What Our Customers Have to Say